When most of us hear the term "golf flag", not a whole lot comes to mind. Perhaps you think of something simple and plain that marks a golf hole. Or maybe the concept of flexing your personality and stylizing your course is what comes to mind as the primary purpose of the flag. Or… it's possible that you just think of a branding option for owners of golf resorts to remind you of where you are. Either way, not a whole lot of action has historically been packed into the concept of a flag that sits in the golf cup. Not until now with PushNPutt's flagsticks, that is. When the time arises for you to procure those putting green replacement flags, we've got the perfect answer for you. PushNPutt is the clear choice!
The World's First Interactive Putting Green Replacement Flags
No matter if you own a backyard putting green, private golf course, or indoor practice putting green—you're going to love these flagsticks. Created by inventor and golf lover, Jerry Mallonee, the PushNPutt is patented due to its groundbreaking nature and extraordinary value. It is hardly an exaggeration to say that the PushNPutt and its variants are among the most unconventional and novel golf products to hit the market within the last fifty years. How so? Let's take a look!
#1 Choice for Your Golf Hole Cup with Flag
No matter how many holes your personal or private course packs, there really is only one top choice for the golf hole cups that have flags. When we say that the PushNPutt is a frontrunner in innovation and value, we mean it! Due to its unique, one-of-a-kind design, you will find that this golf accessory not only speeds up play time, but it also drastically reduces wear on your body. This is achieved through the product's basic design.
By pushing down on the flagstick, a mechanism is triggered that lifts the bottom of the cup. This motion disperses golf balls from the golf cup or hole and back onto the putting green. You've heard us correctly—the balls are brought to you, not the other way around. No more need for incessant bending, stooping, kneeling, or stretching to fetch those golf balls at the end of each hole. Further, you won't feel so inclined to use your club to fish the balls from the cups. Therefore, not only will you avoid creating fatigue for yourself from stooping so much, but you'll also prevent the likelihood of damaging the turf around the hole. Talk about a win-win situation! All golfers regardless of skill level or age will be able to enjoy more time putting and less time resting. Thanks, Jerry!
High Quality Flags for your Backyard Turf
We've discussed the value that owning a PushNPutt flagstick brings to your golf game and golf course. But, did we mention that these products are also high quality by nature? Our tools are built mindfully and meant to last.
No matter which PushNPutt design you select, you can rest assured that you will be choosing a golf accessory fashioned with love and care. Premium nylon flags, stainless steel, and durable outdoor plastics guarantee a long-lasting product. We feel so sure of our US craftsmanship, that we back our flagsticks with a one year warranty. If you want to add a bit of a personal touch to your turf, we also offer custom embroidered flag options. You don't have to settle for a solid golf flag when you work with us. Inject your personality into your portable golf course or backyard putting green! Choose a brightly colored golf flag, or maybe something a little eccentric. The sky's the limit with our golf putting green flagsticks.
Place Your PushNPutt Order Today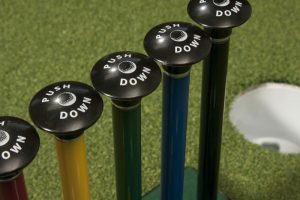 Are you ready to get your hands on one of the greatest golfing technologies on the market today? Don't delay! Give PushNPutt's phenomenal team a call at 828-464-8882 right now to order your very own PushNPutt flagstick. Headquartered at 1848 St. Pauls Church Road in Newton, North Carolina, we are roughly 5 minutes from a local restaurant favorite, Dick's Cafe at 2207 N. Maine Avenue. NC based, we're quite proud of our US made products and cannot wait to connect you with the tools of your golf-centered dreams. Let PushNPutt elevate your golf game. We look forward to serving you soon.
Improve Your Golf Game with PushNPutt