PushNPutt Golf Products, LLC
Use and Care
The "Original" PushNPutt Model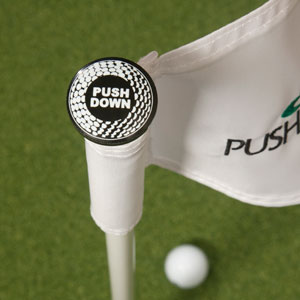 The lifting action of PushNPutt is accomplished by the use of a Nylon Cable, which has a break strength exceeding 100 pounds. However, the Cable can be damaged or broken through misuse and/or abuse. A gentle push downward on the Top Knob is all that is needed to lift your golf balls back to the putting surface.
DO NOT slap, hit, or slam down on the Top Knob. This Action could break the Cable and will Void the Warranty – The cable will more than exceed the warranted period if just "Pushed Down"
The LiftNPutt Model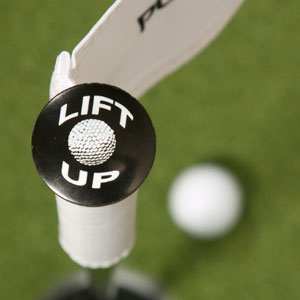 A simple gentle upward pull on the top knob elevates the golf balls out of the hole and onto the putting surface.
The PutterUP Model
Engage your putter head under the handle and "Lift Up" until you feel resistance. Lifting the handle allows golf balls to be raised out of the hole and onto the putting surface.
How to care for all PushNPutt flagstick models:
PushNPutt can be cleaned with a cloth dampened with water or significantly diluted household window cleaner.
DO NOT apply any grease, lubricants, oils, or commercial cleaners to any part of PushNPutt.
Grease–Oils – Lubricants Petroleum products may damage the internal seals and will Void the Warranty
Do Not throw any PushNPutt product – simply lay to the side when maintenance is needed or practice without a flagstick is desired
No assembly is required. PushNPutt practice green flagsticks come ready to place in the cup. However, it is necessary to properly prepare the cup by removing any debris such as grass, leaves or any other foreign matter prior to inserting the flagstick.
PushNPutt Warranty – Original PushNPutt, LiftNPutt, PutterUP
The Period of Coverage for the Original PushNPutt model is 6 months from date of purchase. LiftNPutt and PutterUP models are covered for 12 months from date of purchase.
This Warranty Covers Mechanical defects or failures of all PushNPutt flagstick models that occur during either; (a) our manufacturing process, or (b) during the course of normal use.
This Warranty Does NOT Cover
Mechanical defects or failures that have been caused by misuse, abuse, or accident such as:
Improper use by anyone as stated above
Improper or unauthorized repair
Damage caused by the use of any grease, lubricants, oils, or commercial cleaners
Fire, flood, "acts of God", or other contingencies beyond the control of PushNPutt.
Warranty Claims Procedure:
We will either repair or replace any defective PushNPutt subject to the exclusions listed above. Replacement or repair will be at our sole discretion.
How To Get Warranty Service
Contact Image Industries of NC, Inc. for return authorization within 11 months of the purchase date by one of the following methods:
Phone - 828-464-8882 (Image Industries of NC Inc.)
Email - customerservice@pushnputt.com
When instructed, please mail to PushNPutt | c/o Image Industries of NC, Inc | 1848 Saint Paul's Church Road | Newton, NC 28658

You will need to provide the following information:

A description of the problem
A copy of your original sales receipt
Your Name, Address, and Phone Number
Standard Products – Regular flagsticks, Cups and PushNPutt Flagstick Knobs
All standard flagstick models, cups and specialty PushNPutt knobs are warranted to be free from defects on delivery. Any questions or concerns - contact customerservice@pushnputt.com.
OTHER INFORMATION: Except as specifically set forth in this limited warranty, the Seller of PushNPutt (a) makes no warranties of any kind with respect to PushNPutt; (b) DISCLAIMS ALL IMPLIED WARRANTIES AS TO PushNPutt, INCLUDING, BUT NOT LIMITED TO, ANY IMPLIED WARRANTY OF MERCHANTABILITY OR FITNESS FOR A PARTICULAR PURPOSE; and (c) WILL NOT BE LIABLE FOR ANY DAMAGE, LOSS, COST OR EXPENSE FOR BREACH OF WARRANTY. The right to return any defective PushNPutt, as previously described, shall constitute Seller's sole liability and Customer's exclusive remedy in connection with any claim of any kind relating to the quality, condition or performance of PushNPutt, whether such claim is based upon principles of contract, warranty, negligence, breach of any statutory duty, principles of indemnity or contribution, the failure of any limited or exclusive remedy to achieve its essential purpose, or otherwise. Any warranty claim must be submitted within 30 days of the termination of the warranty period. All warranty claims not presented in accordance with the terms hereof will be denied. [Some states do not allow limitations on how long an implied warranty lasts, so the above limitation may not apply to you.]
LIMITATION OF LIABILITY: THE SELLER OF PushNPutt SHALL NOT BE LIABLE UNDER ANY CIRCUMSTANCES FOR ANY SPECIAL, CONSEQUENTIAL, INCIDENTAL, PUNITIVE OR EXEMPLARY DAMAGES ARISING OUT OF, OR IN ANY WAY CONNECTED WITH, THE AGREEMENT TO SELL PRODUCTS TO CUSTOMER OR THE PRODUCT ITSELF, INCLUDING, BUT NOT LIMITED TO, DAMAGES FOR LOST PROFITS, LOSS OF USE, LOST DATA OR FOR ANY DAMAGES OR SUMS PAID BY CUSTOMER TO THIRD PARTIES, EVEN IF THE SELLER HAS BEEN ADVISED OF POSSIBILITY OF SUCH DAMAGES. THE FOREGOING LIMITATION OF LIABILITY SHALL APPLY WHETHER ANY CLAIM IS BASED UPON PRINCIPLES OF CONTRACT, WARRANTY, NEGLIGENCE, BREACH OF ANY STATUTORY DUTY, PRINCIPLES OF INDEMNITY OR CONTRIBUTION, THE FAILURE OF ANY LIMITED OR EXCLUSIVE REMEDY TO ACHIEVE ITS ESSENTIAL PURPOSE, OR OTHERWISE. For the purposes hereof, the term "Seller" shall include any distributor, wholesale or retail seller of the PushNPutt product. [Some states do not allow the exclusion or limitation of incidental or consequential damages, so the above limitation or exclusion may not apply to you.]