Golf is a sport that can be enjoyed by virtually anyone. No matter your age or where you're from, the thrill of scoring a hole in one is a feeling that cannot be beat! Truthfully, there has never been a better time to get your head in the game. With country clubs, driving ranges, and golf courses popping up everywhere, accessibility has never been higher for the sport. However, sometimes our schedules are packed, and our time is limited. Squeezing in a real golf game at the local golf course might not be feasible. Thankfully, there is an option for folks who want to keep their putting skills on point without having to leave their home: backyard putting greens.
Convenient Home Putting Greens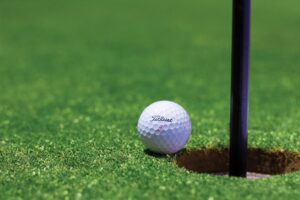 Nothing quite beats a day spent with friends or family out at the driving range or local putt putt golf center. However, buying or creating your own putting green for backyard fun is a terrific alternative to making the drive to a golfing venue. Not to mention a convenient one! Not only can you practice at your leisure, but it also serves as a fantastic and relaxed way of introducing newcomers of golf to the sport. No pressure, all privacy. Further, if you're a social butterfly who enjoys hosting events, you'd be hard-pressed to find a better ice breaker than your very own backyard practice greens!
Top Tips for Your Turf
Having a putting green for backyard gatherings or events is undoubtedly a worthwhile investment for lovers of the game. Contrary to popular belief, you don't need some opulent pro putt system that rivals the fanciest of tour greens in order to see a return on this type of investment. If you're out there having fun, then it's worth it!
Nevertheless, if you're ready to commit to the idea of transforming a section of your yard into golf greens, there are some things to keep in mind. Regardless of whether you're considering synthetic turf or a natural alternative, here are a few suggestions for you. Let's take a look at a couple of tips and best practices when it comes to designing your backyard golf green.
Planning Your Residential Putting Greens
Add your personal touch. This goes without saying, but if you add a dash of your personality to your putting greens, it's going to be that much better. From custom-made golf flags to stylized tee markers, there is so much you can do to truly make it your own. For the highest quality flags around, check out PushNPutt's custom embroidered flags. They'll inject flavor and style into your putting green that will have your neighbors wondering where they can find some of their own. And you'll know to send them PushNPutt's way!
Factor some challenge into your design. While a simple, straightforward one-hole putting green makes for easy practice, let's be honest. That would get boring very quickly. If you add a pinch of challenge to your design, it can really go a long way in keeping you engaged. Consider at least two to three holes, in addition to a few mounds or a sand pit. The more you put into it, the more you'll get out of it!
Consider proximity to your house. Not all of us have sweeping acres of land. However, if you do have a bit of wiggle room when it comes to the distance and size of your yard, take note of this point. While laying your synthetic putting green at a distance may seem appealing at first, it also has a downside. If it's a bit of a trek to get to your green, you may be less inclined to use it. Alternatively, if it's right within reach, it'll increase accessibility and the likelihood of social activities gravitating in that direction. Keep this in mind! Sidenote: try not to put it too close to parked cars or windows. Balance is key here.
Get Your Game on with PushNPutt
Golf is such a wonderful retreat for family, friends, or even solo players needing some downtime. Whether an indoor putting green or outdoor practice green, having your own home-based option provides so much opportunity to improve your skills. As mentioned above, don't overlook the accessories when you're ready to get the ball rolling and start designing that putting green for backyard good times! In addition to our custom embroidered flags, PushNPutt offers a vast suite of other innovative tools. Our patented, interactive flagsticks make outstanding additions to any course, no matter the size. To learn more about what our golf accessories and tools can do for you, give us a call at 828-464-8882! We look forward to helping you spruce up your putting greens.