Golf is a game to be embraced by players across a variety of skill levels and player ages. Seasoned golfers can derive much fulfillment from a competitive match at a local golf course or country club. Similarly, even the most casual of putters can still enjoy themselves on a golf putting green, whether solo, with friends, or with a beverage in hand. Just don't forget your sunscreen!
Regardless of your golfing goals and commitment to the sport, sometimes little obstacles or annoyances do pop up. When it comes to getting in a bit of golf practice, who wants to pay for turf access just to quickly fine tune their skills? Further, the tedium that comes with getting in your car and navigating through busy traffic just to access your preferred practice green can sometimes feel like more effort than it's worth. Fortunately, there is a solution to this situation! Indoor putting greens. If you are unfamiliar with this type of practice putting green, then you are in for a treat. Let's take a moment to look at just how this indoor golf tool can improve your overall golfing experience. And, what's even better is that you don't even have to go outside to do it.
The Benefits of Indoor Putting Greens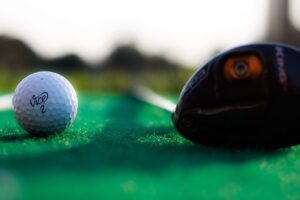 As interest in golf has grown and permeated through several communities, many golf training aids have surfaced on the market. From interactive flagsticks that speed up play time to tee markers and other odds and ends, many of us greatly value the opportunity to hone our golf game on our terms. The weather can be unpredictable at times, and there isn't much worse than missing some much-needed tee time due to the rain. To ensure that your practice time is rarely put on hold, consider setting up your very own putting green indoors! Here are some of the many benefits to investing in one.
Indoor putting greens are highly customizable.
No matter your preference when it comes to style and flair, an indoor putting green can easily be crafted to accommodate your needs. From the overall shape and design to smaller details such as grass shades, you can have a heavy hand in what the final outcome will be. With so much flexibility at your fingertips, what's not to love? You can opt for a multiple hole design or a simpler single hole option if you're really just looking for the occasional bit of putting practice. Either way, your indoor practice green will lay the foundation for you to master the game.
Bad weather can't keep you away from your indoor putting green.
We've already mentioned what a pain it can be to have the weather rain on your parade when it's time to get in some golf practice. Fortunately with a practice green for indoors, this is a non-issue. Come rain or shine, your plans for golf practice can be upheld! Even beyond the scope of weather restraints, having your own putting green in the house allows you tee time access at any hour of the day. If you're more of a night owl, no worries. You can get your game on while the crickets cheer you on in the background.
Indoor golf greens are easy to maintain and cost effective.
It is hardly a secret that natural grass greens require innumerable hours of maintenance in order to remain vibrant and healthy. Synthetic turf, on the other hand, consumes far less time when it comes to upkeep. Without the need for frequent landscaping, you'll have more time to focus on putting and less need for trimming and watering. Further, your synthetic grass greens won't require fertilizers or chemicals to manage pests. Therefore, your indoor putting greens arguably function as a more environmentally friendly investment than transforming your yard into a natural golf green.
Indoor golf greens cultivate a great social atmosphere.
Who doesn't love a good party? If your family's house is often the hot spot for social events or community activities, adding an indoor putting green can shake things up and give frequenters of your home something new to experience. Since golf is such a user friendly sport, even young children will be able to partake in the festivities involving your fancy indoor green! The social event can last that much longer as visitors take turns putting on your personalized practice green. What fun for everyone!
Shop the Finest Golf Training Aids at PushNPutt
Once you've got your personalized indoor putting green set up and ready to go, don't forget to accessorize! If your goal is to increase your practice time and generally improve your golf game, there is an additional secret weapon you should add to your arsenal. PushNPutt's signature interactive flagsticks are among the best golf accessories on the market. These flagsticks do more than just highlight your holes. They're patented for a reason! With a flick of the wrist, you can push down on them and propel the golf balls from the cups. Therefore, no more bending and stooping, resulting in sore knees and achey backs. Speed up your play time, while simultaneously lessening wear and tear on your body. Sounds like a clear winner to us.
To learn more about PushNPutt's innovative flagsticks, as well as other useful golf tools, give us a call at 828-464-8882. Our products are of the highest quality, and all craftsmanship occurs on American soil. If you miss us during office hours, feel free to drop us a line at info@pushnputt.com. A member of our phenomenal customer service team will connect with you and set you up with the best golf tools and accessories out there. We can't wait to serve you, so get in touch today!