Extracurricular activities and physically-based hobbies bring so much value to one's life. They can help reinforce patience in children (and some of us adults, to be honest), as well as provide opportunities to exercise while having fun! To clear your mind while enjoying that fresh air and sunshine, you won't find a much better sport than golf. Heading out to the practice green or local golf course can be a terrific way to engage family or friends and feel like part of a community. For those of you who love the game enough to have your own home golf putting green, why not add some flavor to your course? PushNPutt offers the absolute best putting green flagsticks. Our flags for indoor or outdoor use will showcase your personality while you prep for your next big game.
High Quality Putting Green Flag Sticks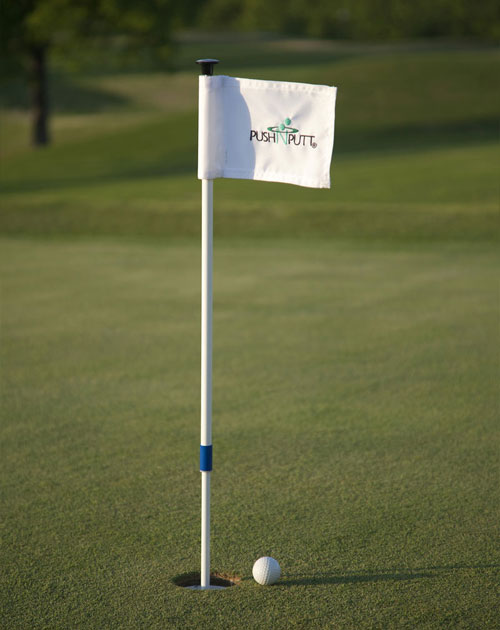 When it comes to golf accessories, many of us think of flag sticks as a simple solution for sprinkling decor around the putting green. It is true that they can liven up a small course. However, did you know that PushNPutt's flag sticks also function as golf training aids? With three unique models designed and created by golf lover and inventor, Jerry Mallonee, you will find yourself saving time, money, and wear on your body when you invest in these products. Let's take a look at how these innovative accessories work, as well as their abundant benefits!
PushNPutt Flag Stick Models
Many of us know what a typical flag stick is. We've seen them, we've used them. Maybe we've accidentally broken one or two in the past. (Oops!) Whatever vision of a golf flag stick that you have in mind, prepare to change your perception. PushNPutt is the new kid on the block with a brand new story to tell! As mentioned, Jerry Mallonee is the mastermind behind this golf accessory and its various iterations. He saw an opportunity to change up the game by creating an interactive and intuitive tool that could help eliminate potential obstacles to safe and efficient play. We'll take a look at the benefits of PushNPutt flag sticks here in a moment. But first—let's unveil the distinct models and options available to you!
Meet PushNPutt, LiftNPutt, and PutterUp
The original model for the PushNPutt remains the signature product of the company. And for good reason! Unlike traditional flag sticks on the market, PushNPutt features a one-of-a-kind design that drastically reduces the need to bend over to retrieve your golf balls from holes and cup sets. The uniquely designed mechanism is triggered by simply pressing down on the flag stick. Once you've activated it by pressing downwards, the balls within the cups are propelled right out! It comes with a bit of an extra bonus, too. The force with which the balls are booted from their cup-based hideouts ensures that they won't roll back in. Basically, you press once, the balls come out, and you keep on keepin' on. Or should we say, "puttin' on"? Nevertheless, the point is this: no more constant crouching and fishing your golf balls from the holes. Let PushNPutt bring the balls to you!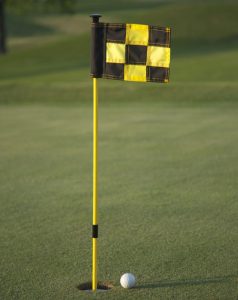 Next up we've got PushNPutt's cousin, the LiftNPutt. This flag stick model is relatively similar to PushNPutt, but with a small twist. While it functions similarly to the PushNPutt, the LiftNPutt works by being lifted rather than pushed. Golf club in hand, you simply raise the LiftNPutt, which activates the mechanism that propels the balls from the cup. The outcome is the same: the balls come to you without the pesky need to idle on your knees. You lift, you putt, and you continue playing!
The third and final flag stick model available is called the PutterUp. With such an adorable name, it probably comes as no surprise that PutterUp is essentially a smaller form of LiftNPutt. The reason for the diminished size lies in Jerry's desire to offer a tool for smaller courses, increasing user accessibility. This is the perfect version for indoor portable putting greens, small residential courses, or putt putt golf courses. Regardless of your flag stick needs, there is an option for you with PushNPutt's products.
Benefits of PushNPutt Golf Flag Sticks
Golf is a game that can be enjoyed by players of all ages. One of the sport's merits is that it can be quite user friendly. It's a clear winner when it comes being straightforward enough to quickly get out there and start playing! However, there are some hiccups that come with the territory. The need to bend over frequently to pick up golf balls can certainly begin to wear on a player, whether young or old. Now that you've had a chance to learn about our PushNPutt flag stick models, let's take a look at just what a difference these golf tools can make for you.
Play faster with PushNPutt. That's right, our groundbreaking tools can increase your playtime speed. With PushNPutt flag sticks on your turf, you'll find yourself spending far less time bending, stooping, and struggling to retrieve the golf balls nestled within the golf holes. As a result, you will be able to devote more time to actually playing the game and moving from hole to hole. The name says it all: you'll be pushing, then putting. Why waste time doing much else?
Protect your knees and back with PushNPutt. It goes without saying that bending down frequently can really start to take a toll on your joints after a while. For players with arthritis or other health conditions, this can pose a monumental obstacle to playing golf, regardless of the intensity of the game. Don't give up hope of getting to keep enjoying what you love! With PushNPutt and its sister models, you can preserve your body by reducing the wear and tear on your knees and back.
Preserve your turf with PushNPutt. In addition to adding a layer of protection to your knees and back, PushNPutt's golf tools can take things a step further and protect the integrity of your turf! Regardless of whether your particular golf game is intense or casual, it is normal to tire before you've reached the final hole. As trends would have it, golfers frequently begin utilizing their clubs to fish balls out from golf cups as they become increasingly fatigued. This action has the potential negative effect of denting cups and tearing up turf. If you've been struggling with the maintenance costs of your personal putting green or small commercial course, consider adding PushNPutt products to your field! Golf ball retrieval will be as simple as a flick of the wrist and without all the stooping. The likelihood of patrons tearing up your golf greens and damaging your cups from fatigue will be dramatically lessened.
Better Backyard Practice with PushNPutt
Whether your primary golfing hot spot is at the local country club, driving range, putt putt center, or best friend's backyard—PushNPutt golf flag sticks are just what you need! To learn even more about our high quality golf accessories and tools, get in touch with us at 828-464-8882. We look forward to connecting with you!