North Carolina is undeniably a top contender when it comes to the best US states to visit for vacation. From the assortment of exciting beach resorts to the calmer mountain getaways, you're in for a treat. There is truly something for the entire family to experience here! What's even better? You won't be able to see it all the first time, so second trips are an absolute must! (Maybe third, fourth, and fifths, too.) Regardless of whether your preferred vibe is isolation in the mountains or shaking sand from your shorts, you mustn't forget to squeeze in time for a round of golf. With its vast tourist appeal, North Carolina more than delivers on this front, unsurprisingly. With a seemingly endless supply of gorgeous golf venues, you can't go wrong with setting aside a full day for some putting here. Let's look at some of our favorite NC golf courses!
Best Golf Courses in North Carolina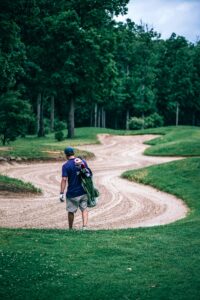 It is hardly an exaggeration to say that North Carolina is among the most beautiful states in the USA. Vacationers, be warned! The atmosphere is infectious. You might just find yourself checking out the real estate at some point as a result. The variety of course designs (and lovely scenery surrounding them) serve as further reminder to many of us why we chose to live here. Some local golf resorts boast a backdrop of captivating mountains, while others are cozily embraced by glistening streams. No matter your preference, there is sure to be a course that will take your breath away. Figuratively and literally! Here is a snapshot of a few of our favorite golf clubs, golf resorts, and golf courses in North Carolina.
Wade Hampton Golf Club | NC-107 in Cashiers, NC
Honorably named after a highly respected Confederate cavalry leader, Wade Hampton Golf Club is one of NC's best golfing hotspots. Founded in 1986, the club has always maintained the goal of providing a memorable experience for players. It is renowned for its 18 hole course being suitable for players across a myriad of skill levels. Basically, if you like golf, you're welcome here! Veterans of the sport and fresh faces to the scene can equally take solace in the accommodating environment present at Wade Hampton.
In addition to receiving accolades from Golf Digest and Golf World, this golf course presently ranks 25th among the top 100 golf courses in the country by Golf Digest! Golfweek's reviews are even brighter. That organization granted Wade Hampton the title of "Number One" golf course in the US compared to other residential courses. If you're itching for a laid-back atmosphere where kindred spirits can cultivate lifelong connections through a shared love of the game, then we've got the perfect suggestion. Give Wade Hampton a try next time you're visiting Cashiers, North Carolina.
Quail Hollow Club | 3700 Gleneagles Road in Charlotte, NC
Founded in 1959, Quail Hollow Club is a favorite among inhabitants of Charlotte. Its appeal is far reaching, so don't think for one moment that it's just for the locals! Many a golf event has been hosted here, and for good reason. With 18 holes spread out across a well-planned and well-kept landscape, it is no wonder that the Wells Fargo Championship chose this as its location for the 2017 PGA Tour!
Located less than ten miles south of the downtown Charlotte area, it's a highly recommended place for travelers to visit. Once you're done with a spirited round of golf, you can explore the nearby city. We'd consider that a win-win. So if you are a fan of well manicured courses that embrace the fluctuating contours of the terrain, don't forget to swing by Quail Hollow! It is the ultimate experience when it comes to challenging your skills and invigorating your senses.
Boone Golf Club | 433 Fairway Drive in Boone, NC
As a burgeoning town within the High Country of North Carolina, Boone has been on many a traveler's (and retiree's) radar for the last several years. Among its merits include a phenomenal university, inviting small-town community, and nature trails galore. Oh, and a top-rated golf course: Boone Golf Club!
A major selling point for Boone Golf Club is that it is a public course that emanates the quality found in a private one. Boasting the spectacular landscape and scenery of the High Country, you will be taken away by the enchanting views and player-friendly course here. Not to mention the reputation this venue has for its friendly staff.  So, next time you're in Boone, make sure you don't miss one of its best kept secrets! Boone Golf Club's 18 hole course is waiting for you.
Golf Like A Pro with PushNPutt
While we have only highlighted a few of our favorite North Carolina golf courses, you can rest assured that the list goes on and on. Not everyone has time for an extended game at a local country club. Sometimes your best bet is setting up your own backyard putting greens to keep your skills sharp until your next scheduled game day. Nevertheless, if you are in the market for some new sights to see and courses to experience in this beautiful state, give some of our suggestions a try!
While you're shopping around for some fun driving ranges and golf courses to explore, don't neglect stocking up on personalized golf accessories. There are quite a lot of vendors on the market, but not all are created equal! Located at 1848 St. Pauls Church Road in North Carolina's very own town of Newton, PushNPutt is your one stop shop for high quality, USA made golf tools and accessories. We proudly offer distinctive products that will allow you to putt like a pro. From custom embroidered flags to knobs, cups, and patented interactive flagsticks, you'll be glad you stocked up with us!
To learn more about how our products can add value to your game, check out our online store. We further invite you to give us a call at 828-464-8882 or email us at info@pushnputt.com. Our dynamic customer service team looks forward to fielding your inquiries and connecting you with the best golf accessories on the market. Don't settle for less; choose PushNPutt. Get in touch today!
Find High Quality Golf Products with PushNPutt