There's no better way to wrap up a hard work week than a relaxing game of golf. Whether you're playing solo or with family, it's a tried and true method to unwind. Unfortunately, bending down to constantly retrieve your golf balls can really start to wear on your nerves… and your knees! Safety tips for a solid golf game often involve common reminders that do not really take into account typical wear and tear that comes with popular tool designs. Jerry Mallonee, PushNPutt's inventor, saw another opportunity to not only improve your golf putting experience, but to further ensure increased safety. Cue the PushNPutt golf flags sticks! Traditional golf flagsticks are designed to be stationary, requiring you to do the work of fetching those golf balls. With PushNPutt, the balls come to you!
Patented Golf Course Flag Sticks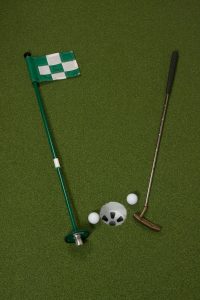 You might be wondering how PushNPutt's golf course flag sticks might work. Jerry—the mastermind behind this innovative, groundbreaking tool—saw an opportunity to craft a mechanism that propels the balls from the cup. How, you wonder? It's simple! You merely push down on the top of the flagstick. With its groundbreaking design, these particular flagsticks will eject the balls with enough force to roll out, and they won't roll back in. It is as fascinating as it is unique.
What makes this golf training aid so invaluable is how much it reduces the need to stoop, kneel, bend, and grasp for your golf balls from the holes. This allows players of any age to focus on their backyard practice or putting green skills. You will not only increase the speed of playtime, but you'll see a significant increase in physical comfort after. Aching knees, shoulders, or backs will officially be a thing of the past with PushNPutt at your disposal.
In addition to improving golf game speeds and drastically reducing the negative physical impact of stooping, PushNPutt provides another advantage. If you've bemoaned how quickly your practice greens start to look a little ragged, then you are certain to find value in these flagsticks. When golfers become fatigued, they commonly tend to rely on their golf clubs as a means to dig balls out of the cup sets. This not only leads to dented cups, but it can also result in torn turf surrounding the holes. You can eliminate the likelihood of this situation arising with PushNPutt. Reduce your maintenance costs and add this flag stick backyard today!
Putting Greens Safety Tips
We've already mentioned what a monumental difference PushNPutt's patented flagsticks can make. From lowering practice greens maintenance costs to increasing overall playtime, PushNPutt is a fantastic option to breathe life back into your game. We further love the diminished impact that fatigue and body aches will have on you when you utilize PushNPutt. Family members across all ages can join in on the fun thanks to this golf accessory.
Unfortunately, golf injuries do occur from time to time. Golfing makes a wonderful daytime activity for families, and it's a tremendous reason to get the kiddos outside. But when it comes to staying safe on the course, some mishaps may be unavoidable. Nevertheless, to play it safe when it comes to golf-related injuries, we've got some suggestions, tips, and precautions to pass along. So if you've wondered, "How do I stay safe while playing golf?", take a look at these recommendations.
Always ensure that everyone around you is a safe distance away before you swing. This can significantly reduce the likelihood of any accidental face injuries from a golf club!
Keep your eye out for balls flying. If you do your best to remain out of the way of golfballs zipping by, you should be spared the unfortunate situation of a ball landing on your head.
Shout the term, "Fore!" whenever you are about to hit the ball. Additionally, taking cover and remaining vigilant when someone else shouts this can help increase safety.
Stay hydrated! Golf may not require as much immediate movement as soccer or basketball, but if you're out in the sun all day, you will want to make sure that you drink plenty of water.
If you're driving the golf cart, make sure you stay on the cart paths. Do not go off-road over bumpy terrain to avoid the likelihood of tipping the cart over. If you rented the cart, we guarantee that customer service will not appreciate that phone call!
Contact the Golfing Experts Today
There exists a vast array of ways that you can stay as safe as possible during a game of golf. We have provided only a few suggestions that will hopefully keep you going strong during your next golf game! For an extra boost to your golf time—and a reduction in sore knees—take a peek at our innovative products. You will not regret picking up your PushNPutt flagstick. If you have questions about our product or accompanying accessories, our customer service team is eager to work with you. Don't delay. Give us a call now at 828-464-8882. Get in touch with our golfing experts to learn more!