With summer finally upon us, there's no better way to pass the season than by embracing the great outdoors! If hiking or fishing is not quite your cup of tea, golf makes for a wonderful alternative to expose yourself to some fresh air and sunshine. As invigorating as trips to the local country clubs or driving ranges might be, sometimes you want to simply relax in the comfort of your own yard. So to come as close as possible to having your own practice green in the backyard, why not set up a home golf station? For both outdoor and indoor setups, you will want to check out some of PushNPutt's fantastic and groundbreaking tools. From golf flagsticks to accessories like solid golf flags, you can't go wrong with PushNPutt's backyard practice products!
PushNPutt Backyard Putting Green Flags and More!
Investing in some fun accessories for your golfing setup is truly a dream come true. Not only will certain products enhance your gameplay, but they can inject some personality into the golf putting green. When it comes to tools for speeding up playtime and reducing wear and tear on your knees (and golf green), look no further than PushNPutt's signature flagsticks! And for an added touch of flair, shop PushNPutt's selection of cups, synthetic turf seam tape, and golf pin flags. Interested in learning more? Let's take a look at some of these instruments and how they can spice up your golf game.
Innovative and Interactive Flagsticks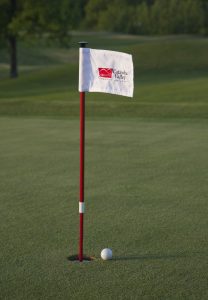 Have you ever found yourself with an aching, sore lower back or knees following a golf game? Has there been a point where you no longer felt motivated to lean over to retrieve your golf balls, so you began relying on your golf club to fish the balls from the holes? If you can relate to either of these points, PushNPutt has the ideal solution for you! Inventor and avid golfer, Jerry Mallonee, came up with the brilliant idea to create interactive flagsticks to tackle the impact of the aforementioned issues. First, let's take a look at how it works, then the benefits will become clear!
Essentially, the PushNPutt golf flagstick operates in a manner that allows balls to be propelled from the golf hole cups. The way this happens is genuinely with a flick of the wrist! By pressing down on the top of the flagstick, the balls are pushed up and out of the cups. The force is not great enough to send the balls flying everywhere, but it is strong enough to ensure that the balls won't roll back into the holes. Pretty cool, right?
The advantage to utilizing such a groundbreaking device rests in the fact that you will no longer be stooping, kneeling, or bending to retrieve your golf balls from the holes. This means no more sore knees or back! Further, you won't be tempted to use your club to get those balls from the hole. With PushNPutt's flagstick in your suite of golfing tools, you can not only extend your game time due to diminished fatigue, but you can also extend the longevity of your turf. Bid farewell to dented cups and torn up green around the holes!
High Quality Nylon Flags
In addition to PushNPutt's innovative and interactive mini golf flagsticks, other phenomenal golfing tools and accessories are available. Although synthetic turf seam tape, cups, and flagstick knobs are offered, a popular pick is a custom embroidered flag! Choose golf flag sticks or flags solid, patterned, and embroidered… the choice is all yours with PushNPutt!
When it comes to the quality of our flags (and other products), you won't find much better. Our tools and instruments are made in America and fashioned from only the highest quality materials. Assembled at our headquarters in Newton, North Carolina, each model of PushNPutt's flagsticks is crafted meticulously. They boast 400 Denier nylon in the flags, powder coating, and stainless steel. Even better is that our flagsticks come with a one-year guarantee or warranty. You can count on our tools lasting a while and looking fresh, regardless of the weather outside.
Take Your Golf Skills to the Next Level
Having your own backyard practice green can certainly up the ante when it comes to achieving one's goals. But, when you're ready to show off your skills—and your fantastic PushNPutt golf accessories—we'd recommend taking it public! There's no feeling quite as satisfying as demonstrating what you've learned at the local golf club or driving range. With PushNPutt's headquarters being situated in Newton, NC at 1848 St. Pauls Church Road, we've amassed quite a bit of knowledge regarding local golf hot spots. If you've already frequented some of our other North Carolina golf site recommendations, we've got another suggestion for you.
To experience a great golf course that is exceptionally golfer friendly, look no further than the Hampton Heights Golf Club at 1700 5th Street NE in Hickory. Not only is a round of golf a terrific value at this venue, but the tee times are exceptionally accessible, and the facility is known for its friendly and helpful staff. Treat your family to a relaxing and fun day at this beautiful course! It's family friendly to the point of feeling like you're at home. You won't find a better place for a better value than Hickory's very own Hampton Heights Golf Club! Give them a call at 828-328-5010 to learn more about what they have to offer.
Putt with PushNPutt Pride
Are you ready to take your golf skills to the next level? Are you tired of fielding the frustration of physical pain at the conclusion of an extended game? PushNPutt has got you covered, either way. Shop our assortment of goods, so that you can putt with PushNPutt pride! To learn more about our various flagstick models or accompanying accessories, give us a call. You can reach our fantastic customer service team at 828-464-8882. We look forward to working with you.