Some of the best hosted events have occurred in backyards. While few things can top a good old-fashioned pool party, many have begun to see the value in constructing their very own backyard putting green. In addition to the added convenience of having your own golf course right within reach, an outdoor putting green can add value to your home and make for an engaging focal activity during your next home-based gathering. Children and adults alike can find themselves having a genuinely good time as they work on their putting skills! But before you throw caution to the wind and place an order for the first outdoor or indoor putting green option you find, make sure you take into consideration what comes with the territory. If you're eyeballing a synthetic putting green in particular, here is some general advice to keep it in tip-top shape!
Top Tips for Your Artificial Putting Green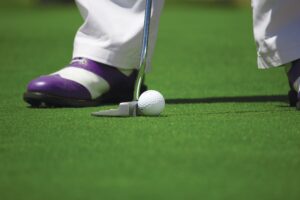 While some homeowners may prefer a natural grass turf for their private golf haven, many others have opted for an artificial grass green instead. There are certainly pros and cons to either choice. But if you've personally made the decision to procure a synthetic turf, we want to make sure that you're set up for success in keeping your artificial turf in the best shape possible.
Artificial putting green turfs are admittedly fairly durable and straightforward to maintain. Nevertheless, we hope this advice proves helpful to newbies and longtime owners, alike. After all, we want that green to look its absolute best for as long as possible! Here are some of our favorite tips for maintaining your synthetic turf.
Stay away from strong chemicals. While synthetic turf tends to be on the tougher side, it is possible for certain substances to impart irreversible damage. Some chemicals that tend to be on the harsher side can degrade the material of the turf. Usually artificial greens are made from polyurethane, nylon, or other petroleum-based product combinations. Exposure to specific chemicals most definitely can discolor the grass. Oil-based pants can also contribute to the degradation of turf color, so be careful! In this case, an ounce of prevention is worth a pound of cure. If you're planning to handle chemicals or paints for any reason, just keep 'em off your putting green.
Devise a maintenance routine. Many find the upkeep for an artificial putting green to be quite a bit less than for natural grass. However, that doesn't mean that you don't have to worry about upkeep! We recommend that you carry out a couple simple chores for your outdoor putting green at least monthly. Although, weekly would be even better! We strongly suggest the following: 1. remove leaves and other debris from your turf; 2. rinse your artificial turf with cool water to remove dust or pollen; and 3. cross brush your turf against the grain to prevent matting.
Be mindful of hot coals or fire. This one goes without saying, but we recognize that the temptation to barbecue while you're doing some leisurely putting might be higher on some days than others. Nevertheless, traditional synthetic putting greens can melt if exposed to high heat. If you're pondering a fire-pit addition, make sure that you erect some sort of concrete, brick, or hardscape buffer between those devices and your turf. This will prevent random coal sparks from damaging your green.
Maintain Your Greens and Golf Skills with PushNPutt
There are so many little things you can do to extend the longevity of your artificial putting green. By investing a bit of time each week and keeping in mind some of our suggestions, you are sure to have a lovely looking turf for years to come! Whether indoors or outdoors, your personal putting green is a worthwhile investment. And much like any investment, you don't want to skimp on maintenance!
Just as caring for your golf green bears importance, you should be equally mindful to set aside time for practicing your form and putting skills. Whether your aim is to become a professional golfer or to merely have a casual after-work pastime, you're only as good as the time you put into it! If you're looking for a simple way of improving your game time and lessening the physical stress or impact of golf on your body, we've got a suggestion for you. PushNPutt's interactive flagsticks are the ticket to a quick, easy, and ache-free golfing experience! Our flagsticks significantly reduce wear and tear on your back and knees. If it sounds too good to be true, just give us a call at 828-464-8882 to learn more! There are so many benefits to using PushNPutt's products.

Don't delay! PushNPutts's customer service agents are ready and willing to find you the golf accessories of your dreams. Don't hesitate to reach out to our dynamic team. We look forward to assisting you in shopping our phenomenal selection of golf tools. After all, as one satisfied customer has shared, our products are "curse word awesome". Get in touch today!