There aren't a whole lot of activities quite like golf. You have the benefit of getting to be outside. You can breathe in that fresh air and soak up the warmth of the sun. Further, you'll find yourself getting in more of a workout than you'd think! For those who value working their bodies and minds, golf steps up to the plate in providing a relatively healthy amount of mental challenge as well. It's pretty much the perfect sport! And what's even better? It can be played completely solo or with a group of family members or friends surrounding you. What's not to love? There's so much value to golf. And some go a step further. Rather than going out to a driving range or local putting green, they bring the game home by investing in a backyard golf course.
Enhance Your Golf Game and Home with A Backyard Golf Course
The idea of having your own personalized golf green may sound surprising to some. But, it comes with quite a few added perks! There's certainly a reason why many are choosing to stand behind the mindset (and burgeoning trend) to #BringGolfHome. Regardless of whether you're on the fence about installing an outdoor putting green or if you're just genuinely curious about the advantages of owning one—let's take a look at some of the rationale behind personalizing your backyard with your very own golf green.
The Perks to Installing Backyard Golf Greens
We've already touched on the general benefits to embracing golf as your choice sport. Outside of the scope of physical and mental stimulation, golf is a remarkable way to socialize. Not to mention its ability to help you unwind after a busy day. However, if you've grown tired of having to pace yourself based on others at the country club golf course or lines at the driving range, there might just be the perfect solution for you. Invest in a backyard golf course! You can expect to enjoy these following perks as a result:
Add value to your home. No matter where you live, revamping parts of your home is sure to increase the inherent value of the property. Similarly to more typical updates like replacing flooring and renovating older spaces, adding a putting green to your backyard presents an added level of bargaining power when you're showing potential buyers what you have to offer.  Even if you aren't planning on selling anytime soon, it adds that extra special touch to your yard.
Spend less money in the long run. While it is true that installing a personal putting green in your backyard requires a financial investment up front, consider how much money (and time) you'll be saving in the long haul. No more paying to go to a driving range or local golf course just for the sake of practice! You can now accomplish that task directly from the comfort of your own home. If you feel like working on your putting skills at 2:00 AM, the choice is yours. And you won't have to pay an access fee every time.
Refine your golf technique. Not everyone is aiming to be a top championship winner. We get it. But there is something to be said for the thrill of beating your work mates in a friendly, competitive round of golf! As mentioned in the point above, you'll have the ability to practice playing much more easily when you install your own golf course in the backyard. With increased ease of access to a putting green, you'll likely find yourself able to work on your form more frequently. Throw in some golf drills, and you'll be golden!
Get Your Head in the Game with PushNPutt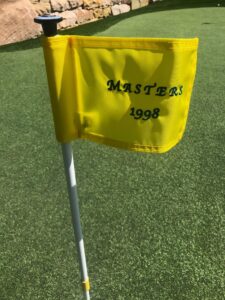 Golf is a phenomenal pastime choice. Whether you're a naturally competitive person or someone who just likes to combine exercise with a generally good time, this is a wonderful hobby to pursue. There is a reason that interest only continues to grow for golf! No matter your age or athletic ability, it beckons us all with its potential for fun times and social engagement. So if you're ready to add an extra layer of depth to your golf skills, consider the value that a backyard golf course will bring.
Once you've spruced up your yard (and your golf knowledge) thanks to your new backyard putting green, don't forget to add one of PushNPutt's innovative interactive flagsticks to your course. Without a doubt, these golf tools will impress you. Not only will they speed up your game time, but they'll also minimize the painful impact of bending and stooping to retrieve your golf balls. Pretty cool, right? You'll be wondering how you played without these fantastic golf accessories once you've gotten your hands on one! Are you ready to learn more about these groundbreaking flagsticks? Then give PushNPutt's expert customer service team a call at 828-464-8882. We can't wait to serve you and help you get further ahead with your golfing goals.