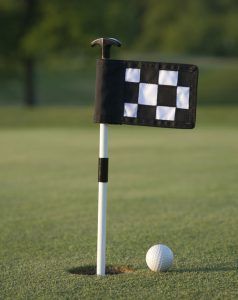 Whether you enjoy playing a round of putt-putt with friends, or own your own backyard practice green, you've probably experienced your fair share of mini golf hole flags. For decades, these flags have served little purpose other than to signify the end of a hole. And because they are so low to the ground, they often induce stress on joints when golfers need to bend over to retrieve their golf balls. But not anymore.
Interactive Mini Golf Hole Flags
Jerry Mallonee is the inventor of the PushNPutt line of interactive golf flags and cups. His mini golf flag model, the PutterUp, is the first of its kind to offer some relief for golfers who suffer from knee, joint and back pain. Instead of repeatedly bending over to retrieve your golf balls, Jerry's innovative design allows you to increase your putt time and decrease the stress on your joints all within a single product.
The PutterUp model is a mini golf hole flag that features a hook affixed to the top of the pole. This hook can perfectly accommodate a putter head. At the end of each hole, simply hook your putter head to the mini golf flag and pull up. Interior mechanisms are attached to the cup and will raise the golf balls to the putting surface. There's no need to bend over ever again! Simply hook, pull and putt!
In addition to protecting your joints, our mini golf hole flags can also protect your turf! When golfers become fatigued from repeated reaching, they will often resort to digging out their golf balls with the heads of their putters. This can cause damage to metal cups, as well as digging up the turf around the hole. Decrease your maintenance costs and keep your green looking pristine with the PutterUp!
Made in America
All of our PushNPutt products are made in our factory in North Carolina. We only use the highest quality stainless steel, nylons and outdoor plastics to ensure our products can stand up to any weather condition. Which is why we also offer a one-year warranty!
Further personalize your putting green by choosing from a selection of colors, finishes and flags for a truly customized product.
Shop our Selection
In addition to our mini golf hole flags, we also offer two full size interactive golf flagsticks. Our PushNPutt model stands at a standard size and requires a simple push down on the pole to raise up golf balls onto the putting green. The LiftNPutt is a larger version of the PutterUp. It requires a gentle lift up on the flagstick to engage the mechanism. Whether you're an avid backyard golfer or own a sprawling country club, everyone can benefit from using our interactive products on their courses.
Browse our online store for mini golf hole flags, full size flagsticks and other innovative golfing products.