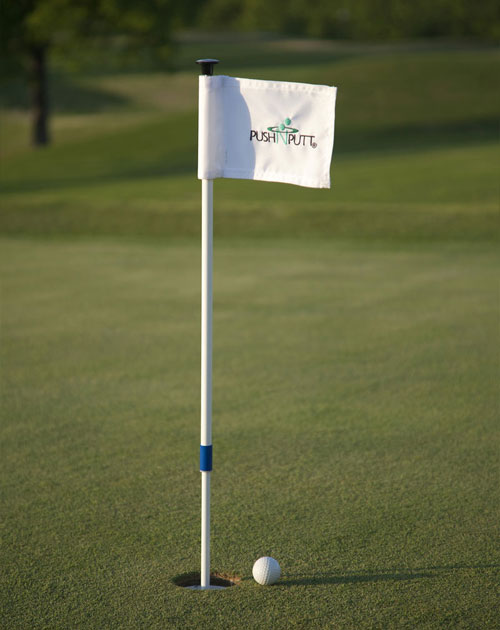 For centuries, the purpose of a golf pole and flag was to signify the end of a hole. But thanks to Jerry Mallonee, that's no longer the case! His patented PushNPutt golf flagsticks have revolutionized the industry through his interactive products. Now, golfers of all ages and abilities can more fully enjoy the game of golf without the stress on their backs, knees and joints.
World's First Interactive Golf Pole and Flag
Traditional golf flagsticks are stationary and serve no other purpose than to signify the putting green and the end of each hole. They sustain damage from golfers regularly who become fatigued after 18 holes of bending to retrieve their golf balls. Instead, they use their putters to dig out their golf ball from the hole. Which dents the cup and tears up the surrounding turf.
Jerry first realized the need for a new, inventive product when golfing with his father-in-law. His older companion was having issues retrieving his golf ball from the hole, so Jerry went over to help. At the bottom of the cup, Jerry noticed the year '1958' stamped into the metal. That's when he realized how no major improvements have been made to golfing materials in decades. This inspired him to create an interactive golf pole and flag to remedy one of the most prevalent issues surrounding the sport.
By installing an interior mechanism that is engaged through a small effort on the part of the golfer, his interactive design lifts a false bottom of the attached cup. By simply pushing down on the flagstick, this false bottom rises, and subsequently lifts up any golf balls within the cup. The golf balls are then equally dispersed onto the putting surface and won't fall back into the cup.
By removing the need to bend over, golfers are less likely to use their putter to retrieve their ball. This means that less damage will occur to these areas, reducing maintenance costs. Whether you own a backyard putting green or a private country club, PushNPutt interactive golf poles and flags are a great addition to any set up.
Quality Materials
All of the PushNPutt products are made in North Carolina. Backed by American craftmanship, PushNPutt products are also backed by a one-year warranty. All of our golf poles and flags are made with high quality powder coated stainless steel, outdoor plastics and nylons that can stand up to any weather condition. Choose from a variety of colors, finishes and flags to truly customize your flagstick.
Choose from three different models of golf poles. The original PushNPutt features Jerry's innovative design. The LiftNPutt is similar in its interactive qualities. But instead of pushing down to retrieve the golf balls, simply lift up on the flagstick. The PutterUp model is a mini version of the LiftNPutt and is great for backyard courses or golf pros. It features a hook affixed to the top of the pole that can perfectly accommodate a putter head. When you're ready to retrieve your ball, simply hook your club onto the PutterUp and gently lift up. There's no need to put undue stress on your knees or back ever again!
Place Your Order Today
Whether you want to own one of the most innovative products on the market today, or just want to lessen stress on your joints as you play one of your favorite sports, the PushNPutt golf pole and flag is the perfect addition to any course. Place your order today and experience for yourself the benefits of owning one of our innovative products!