There's nothing more refreshing than a leisurely game of golf. Whether you're relaxing in your backyard or out on public putting greens, a round of golf is the perfect reset! What isn't so perfect, however, is pain from constantly needing to bend over in order to retrieve your golf balls. If you have frequently found yourself needing to turn to the Tylenol at the end of your golf game, then we have some exciting news for you. Inventor and golf accessory mastermind, Jerry Mallonee, felt inspired to create something that will speed up play and relieve physical discomfort. Thanks to Jerry, golfers can rejoice at the creation of the revolutionary PushNPutt golf hole flagstick. Say 'goodbye' to achy knees with this tool at your disposal! Discover a new way to play.
Speed Up Play with PushNPutt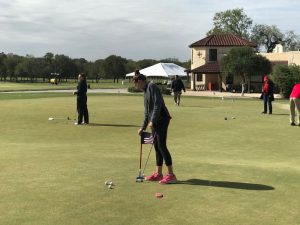 Being the world's first interactive golf flagstick, PushNPutt is the best gift you've never given to friends or family! Typical flagsticks may look just as nice, but don't be fooled. PushNPutt's flagsticks are patented thanks to the groundbreaking technology involved. Essentially, there is an internal mechanism that projects the golf balls from the cup. All you have to do is press or push downward on the stick, and voila! Any balls nestled within the hole are raised onto the putting green. The force with which they are propelled from the cup ensures that they become evenly dispersed and unable to roll back into the cup. It's that simple and effective.
The realization for such a unique and innovative tool struck Jerry during an easygoing game of golf with his father-in-law. Regardless of age, bending down to pick up golf balls begins to take its toll on anyone's knees, and Jerry's father-in-law was no exception. Jerry then felt inspired to conceptualize a way to maintain the aesthetic appeal of flagsticks, yet increase user accessibility in a way that ensures physical comfort does not have to be sacrificed in order to enjoy the game.
We would venture that Jerry's conceptualization was a terrific one! In fact, we are sure of it. With a PushNPutt flagstick in the hole, you can merrily and comfortably putt with freedom from the unattended worry that back pain will be calling your name later. You can speed up your play and maintain the integrity of your joint health. Talk about a win-win situation. Experience a less painful golf game with PushNPutt.
No More Unattended Flagstick Woes
It goes without saying that many of us have developed somewhat of an aversion to retrieving golf balls. After all, who wants to be sore and achy by the end of the game? Well, good news! You no longer have to hit the flagstick in frustration or debate your desire to handle an unattended flagstick. With PushNPutt's tools effectively removing the need for you to bend over, you can keep the focus on what really matters: your golf skills. Additionally, while it is true that PushNPutt's signature, patented flagsticks keep your knees (and back) in tip-top shape, did you know that they also reduce the wear and tear on your putting green?
A common sight to see on the driving range is folks using their clubs to fish golf balls out of the holes. This habit could potentially lead to dented cups or marred turf around the hole. So, if you'd like to keep your golf course looking as fresh as possible for as long as possible, consider investing in a tool that helps you get the job done! We can't think of a better golf flagstick and cup solution than PushNPutt.
Buy the Best Golf Accessory Available
Whether you're an avid lover of golf or someone who just enjoys hanging out in the backyard and casually putting from time to time, you will want to tap into the most innovative golf accessory on the market right now. Place your PushNPutt order today and gift Dad or Grandpa the best golf hole flagstick one could find. You won't regret it! If you'd like to learn more about other cool accessories and options available by PushNPutt, feel free to check out the online store for some other nifty gift ideas! From synthetic turf seam tape to a variety of flagstick models, there is something for everyone. Take it a step further and add some flavor to your turf; take a look at our option for custom embroidered flags! Let PushNPutt add the personalized touch to your golf game that you never knew you needed. Contact us today!