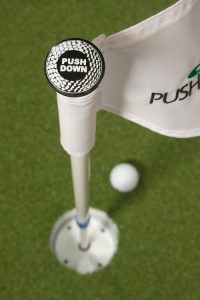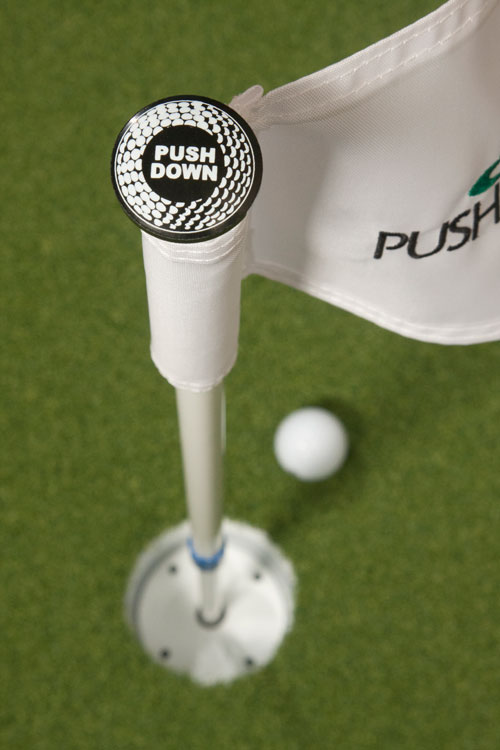 The game of golf has roots that run to 15th century Scotland and was first introduced as an Olympic sport in the 1900s. Throughout its history, little has changed concerning the mechanics of how the game is played. Unfortunately, that means that not many improvements have been made to golf cups and flags either, which for centuries have only served as a way to mark the end of a course. But not anymore.
Jerry Mallonee has invented a revolutionary way to improve golf cups and flags for all golfers – no matter their age, experience or ability. Through his invention of the PushNPutt flagstick, he has created one of the most innovative products for the golf industry in the last fifty years.
PushNPutt Golf Cups and Flags
Unlike traditional golf flags and cups, PushNPutt's patented design features an interactive mechanism that increases putt time while also decreases course damage and stress on golfers' knees and backs. The flagstick is equipped with an internal mechanism that, when pushed down, gently lifts golf balls from the cup and deposits them neatly onto the putting green. The golf balls are equally spread out and will not fall back into the cup – guaranteed.
When Inspiration Strikes
Jerry first came up with the idea for interactive golf cups and flags when playing a round of golf with his father-in-law. He noticed that his older golfing companion was having issues retrieving his golf ball from the practice green hole. When Jerry went over to help him, he noticed that on the bottom of the cup was stamped '1958.' Instantly, Jerry thought about all the advancements made in the world in the last few decades, which threw into sharp relief how far behind the golf industry was in keeping up with modern times.
This inspired Jerry to create a better and more enjoyable way to play the game of golf. By creating an interactive flagstick, both backyard golfers and established country clubs could benefit from his creation.
Backyard Golf Cups and Flags
For the avid golfer with their own private putting green, a PushNPutt flagstick makes the perfect addition to your setup. Increase your putting practice time with these innovative golf flags and cups. Which completely resolve the need to bend over to retrieve your golf balls! Simply push down on the flagstick, and your golf balls are quickly and efficiently raised to the putting surface. Then get back to it! These interactive flags can be customized to different colors and can even boast embroidered flags to give your backyard putting green your personal touch.
Country Clubs & Professional Courses
The hobby golfer isn't the only one that can benefit from PushNPutt's inventive design. Golf pros are able to use these flagsticks during their lessons, allowing for quick playthrough with students. And maintenance crews will appreciate how PushNPutt's golf cups and flags last longer than traditional models. That's because Jerry's design removes the need for golfers to dig out their golf balls with their putter heads. This action is most often taken by golfers who are tired or pained from repeated bending. They will often resort to using their putting to fish out their ball from the hole. This can damage the surrounding turf as well as the cup, increasing maintenance costs and efforts.
Order Yours Today
For the most modern rendition of golf cups and flags, order your PushNPutt flagstick today. Choose from the original design or peruse or selection of LiftNPutt flagsticks and PutterUp models. All of our products are made in America and feature the highest quality products available. Which is why we back all of our models with a one-year guarantee.
For the best and most innovative golf cups and flags available on the market, place your order today.